Welcome to the Happy Valley Tennis Club Website
What's new at Happy Valley Tennis Club -
End of Summer Season Newsletter
Centre Court Tennis School Holiday Clinic
Junior Classic Tournament
Our Junior Classic Tournament will be held from April 23-24 (& April 26 if needed). This is a tournament for Junior players with no Australian ranking points.  We have 16 events in singles and doubles for boys and girls from U11, U13, U15 & U17. Download the entry form and all the details here -
HVTC Junior Classic Tournament
Congratulations to all Happy Valley players who participated in the Les Tapp tournament held in January.
Happy Valley is proud to have had seven players represent the SDTA in the Les Tapp tournament held at the Kensington Gardens Tennis Club in January. Congratulations to Gemma, Bella & Sophie who were runners up in the Open Girls division. Thanks to Linda Batten for being team manager. Further congratulations to Gabriel and Kye who were runners up with their team in the 12 & under category. Thanks to Dave Hussey for being team manager. Thanks as well to Alyssa and Tiana who represented our Club in other teams. Well done to everyone who participated and to all of the parents for their support.
Wannabe Champs Cup
Our Monday Night Doubles Competition for the Wannabe Champs Cup for October – December 2018 saw Tennis the Menace win their second premiership in 3 competitions by easily defeating Always Causing a Racquet. Well done to Nathan, Tim, Sam & Luke!
The Also Ran's prize went to Balls Deep who beat Smokin Aces by 1 game in a nail biter!! And the unfortunate Wooden Spooners Award went to The Burglars.
Well done to all for the friendly atmosphere and matches played in good spirit.
Anyone interested in joining in our Wannabe Champs Cup Winter Doubles Competition on a Monday night please contact Mike Trimboli on 0411 665 854.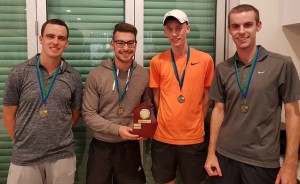 End of Winter Season Newsletter
Happy Valley Tennis Club Junior Classic Tournament
Thankyou to everyone who participated in our Junior Classic Tournament and to all of our Winners & Runners Up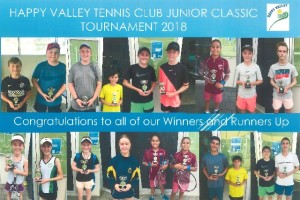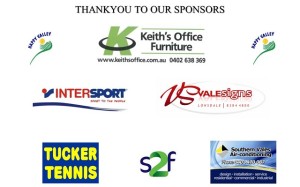 Happy Valley Tennis Club sincerely thanks all of our sponsors and asks that our members and friends use their services wherever possible or when obtaining quotes include them.  Contact information for all of our sponsors can be found on our Sponsors page.  Click on the link to find out more - Sponsors Details 
Playing Tops & Hoodies Now Available to order

With thanks to our Gold Club Sponsor

With thanks to our Platinum ATP Sponsor

With thanks to our Gold ATP Sponsor

---