Welcome to the Happy Valley Tennis Club Website
What's new at Happy Valley Tennis Club -
Spring Holiday Clinic
End of Winter Season Newsletter
Players wanted for upcoming Summer Season Competition
If you would like to join us and play in our upcoming Summer Season please download and complete the appropriate form and submit it to the person named on the form.
Friday Night/Saturday morning Juniors competition form – deadline for submission Saturday September 8
Saturday afternoon Senior competition form – deadline Saturday September 1
Happy Valley Tennis Club Junior Classic Tournament
Thankyou to everyone who participated in our Junior Classic Tournament and to all of our Winners & Runners Up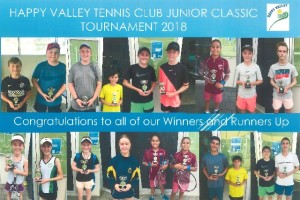 Wannabe Champs Cup
Congratulations to the winners of our Monday Night Wannabe Champs Cup Doubles Competition,  Baseline Bashers who defeated Backspin Bunnies 5-1 in the final.  The 'Also Ran' winners were Smokin Aces who won on a countback from Tennis the Menace and the 'Spooners' award went to Double Duecers.
Anyone interested in joining in our Wannabe Champs Cup Winter Doubles Competition on a Monday night please contact Mike Trimboli on 0411 665 854.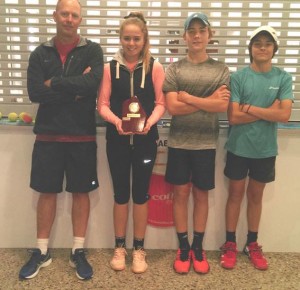 Summer Season 2017-18
Congratulations to all of our Most Consistent and Premiership winners from the Summer Season 2017/18

Happy Valley Tennis Club sincerely thanks all of our sponsors and asks that our members and friends use their services wherever possible or when obtaining quotes include them.  Contact information for all of our sponsors can be found on our Sponsors page.  Click on the link to find out more - Sponsors Details 
Playing Tops & Hoodies Now Available to order

With thanks to our Gold Club Sponsor

With thanks to our Platinum ATP Sponsor

With thanks to our Gold ATP Sponsor

---