The Happy Valley Tennis Club is one of the largest and most modern clubs in SA, providing services all year round for all levels of tennis
Season Recommencing & Raffle Ticket Reminder
Just a reminder that matches recommence after the Christmas break on the weekend of January 31/February 1.  We look forward to seeing everyone out on court then!
Also a reminder that the raffle tickets for our fundraising raffle will be due back soon. We hope everyone can make the effort to sell their tickets with some great prizes on offer.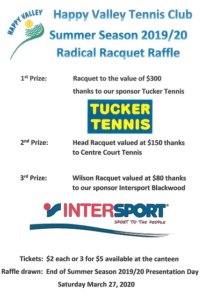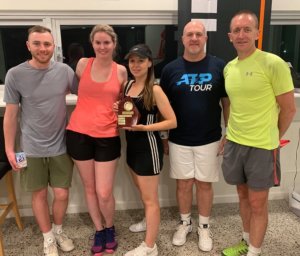 Our final Wannabe Champs Cup for 2019 has been won by the Racquets! (pictured – Simon, Lydia, Natalia, Ben, & Darren) This is the 6th season of our doubles comp and it was the closest night of all seasons so far!
The next season begins in Feb. Anyone wanting to add a team or join a team, let Mike know.
Club's facilities can be hired to Members and the community for any special occasion.Pricing on application.
Non-members
Day $5.00 per court per hour, night $20.00 per court per hour (light usage)
Members
Day hire free, night $10.00 per court per hour (light usage)
Clubroom Hire
Refer Di Cooper
mobile: 0408 814 038
BBQ Hire
$10.00 per hour
Bookings are essential for hiring.  Contact Facility Hiring Coordinator, Di Cooper on 0408 814 038