Welcome to the Happy Valley Tennis Club Website
What's new at Happy Valley Tennis Club -

Happy Valley Tennis Club sincerely thanks all of our sponsors and asks that our members and friends use their services wherever possible or when obtaining quotes include them.  Contact information for all of our sponsors can be found on our Sponsors page.  Click on the link to find out more - Sponsors Details 
Wannabe Champs Cup
Thanks to everyone who participated in our inaugural and successful Wannabe Champs Cup Monday night competition.  Congratulations to the winners Tennis the Menace!   Anyone wanting to join our new comp which starts in late January please contact Mike Trimboli on 0411 665 854.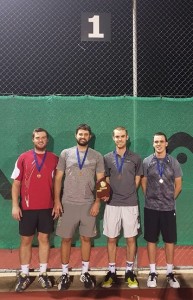 2017 Tennis Challenger a big hit!
With thanks to our Event and Club sponsors and all of our volunteers and ball kids!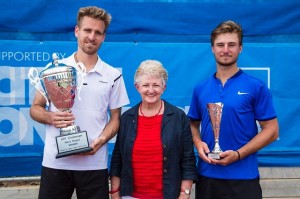 Congratulations to our Singles Winner Peter Gojowczyk (GER) and Runner Up Omar Jasika (AUS)
Full Singles draw and results available here - Singles Draw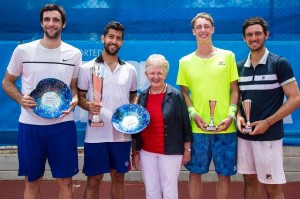 Congratulations to our Doubles Winners Hans Podlipnik-Castillo (CHI) & Max Schnur (USA) and Runners Up Steven De Waard (AUS) & Marc Polmans (AUS)
Final Doubles draw and results available here - Doubles Draw
ATP Challenger 2016 a success!
We sincerely thank all of our Volunteers, Ball Kids, Sponsors, Tennis Australia, Tennis SA and Officials for helping make the City of Onkaparinga Men's ATP Challenger a success!!  Congratulations to our doubles winners Matteo Donati and Andrey Golubev and our singles winner Taylor Fritz. Below are some photo memories of the event.

New Playing Tops & Hoodies Now Available to order

With thanks to our Gold Club Sponsor

With thanks to our Platinum ATP Sponsor

With thanks to our Gold ATP Sponsor

---